I was looking for a good Women's History Month quote when I noticed the name Lucille Ball appearing over and over. So I did some research.
We all know she was an amazing actor and comic. But I didn't realize how much a pioneer she was in the early days of television.
Since I'm personally a fan and I suspect many of you are too, I made Lucille Ball's legacy a part of my reading of Women's History Month stories and I'd like to share a bit of what I learned about this incredibly funny and complex lady.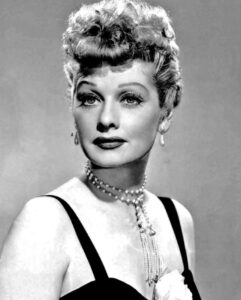 Lucille Desiree Ball was born August 6, 1911, in Jamestown, NY. She knew early in her life she wanted to act and she left school when she was just 15 to pursue her dream. In New York City, she enrolled in drama school where she studied theatre alongside Bette Davis. When she was repeatedly told she had no acting talent, she took the new name of Diane Belmont and moved on to be a model with some moderate, but inconsistent, success.
Which was a good thing, because one of her posters caught the attention of studios in Hollywood. She landed in Blood Money and Roman Scandals (both in 1933), Kid Millions (in 1934), and several others.
She decided to remain in Hollywood where she went after bigger and better roles in Carnival (1935), Room Service (1938), Five Came Back (1939), and other films.
Eventually, it was her starring role in Too Many Girls (1940) that saw the beginning of a romance and partnershp with Cuban bandleader, Desi Arnaz. For the next 10 years, he continued his musical career while she acted in minor comedies until she landed more important roles in The Big Street (1942), opposite Henry Fonda, and Sorrowful Jones (1949) and Fancy Pants (1950), opposite Bob Hope, and a host of others.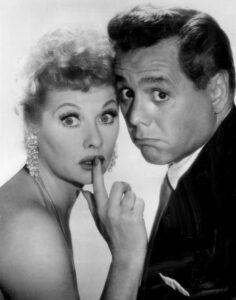 In 1950, she and Arnaz experimented with a program on the radio and formed Desilu Productions. In October 1951, Ball's life would take a turn for the stardom she'd been seeking since she was a child. I Love Lucy, staring Ball and Arnaz, launched on television and became an overnight sensation.
Ball's character Lucy was a fresh take on the American housewife and it showcased her brilliant timing and physical comedy. The show, which won five Emmys, became a model for sitcoms for decades for filming in front of a live studio audience, use of multiple cameras and other technological broadcasting innovations.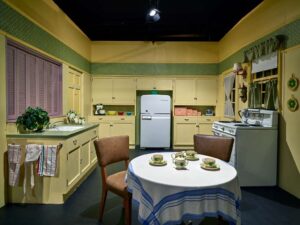 She and Arnaz also continued to star in features like The Long, Long Trailer (1954)–which is hilarious. Watch it, especially if you have an RV camper!
Desilu Productions continued to find success producing television shows like The Dick Van Dyke Show. Ball and Arnaz divorced in 1960 and two years later she became president of Desilu. This made her the only woman at the time to lead a major production studio in Hollywood. In 1967, she sold Desilu and founded Lucille Ball Productions.
For the next nearly 30 years, Ball continued to break barriers as she produced and starred in many television shows and films, almost until her death in 1989. Her influence and popularity continue.