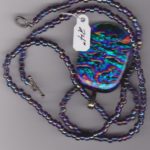 The winners are Cathleen, Jane S and Mary K. I will be contacting them today. If any giveaway is not claimed, we will "draw" again. Thanks, everyone! The comments were interesting.
A Devil of a Duke is coming April 24! I'm so excited that I decided to do a giveaway now so the party can start early.
There will be three giveaways. Two are fused glass pendants made by artisan Terri Malone. They come with seed bead necklaces, but they can be moved onto another cord or chain. The other is a pair of goldtone earrings by Argento Vivo– sterling silver with gold overlay. Three winners will be chosen at random, each one to receive one of the gifts.
The giveaway will remain open until April 20 at 11:59 EST. Winners will be contacted by email and will have four days to respond. After four days any unclaimed giveaway will be reassigned to another entrant. This offer is void where prohibited by law. Must be 18 or older to enter. It is open to international readers!
In order to enter, post a comment below in response to this question: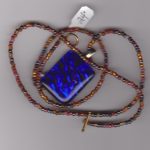 In A Devil of a Duke, Amanda finds herself breaking the law in order to save someone she loves. Do you think she was right to do this or do you think she should have refused or found another way?