Introducing the Fairbourne Quartet's Characters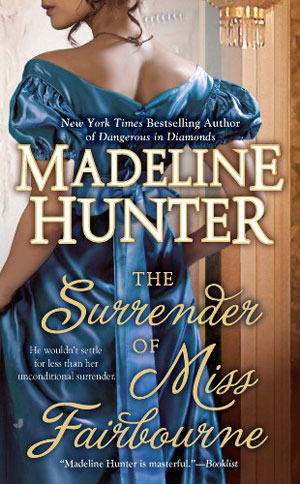 In less than a month, on March 6, The Surrender of Miss Fairbourne will be released. It has already received wonderful reviews, and readers are writing to me about their anticipation for this first book in my new series, The Fairbourne Quartet.
While an excerpt is posted already on the book's page on this site, I thought I would profile the two main characters in this update, and describe their battle of wills as each tries control the future of Fairbourne's, an eminent London auction house. I have also sketched in some of the other characters who populate this world.
***The book is available for pre-order now at all of the main online sites. I have also partnered with a bookstore near me to offer signed and personally dedicated copies, if orders are place with them before February 24. You can find the details to that at the bottom of this note. ****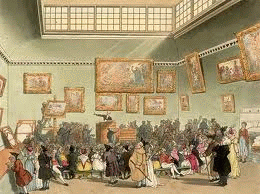 It is 1798, and Emma Fairbourne is the daughter of Maurice Fairbourne, the recently deceased owner of Fairbourne's auction house, an up and coming rival to the famous Christie's. Unmarried, she is on the shelf in part by choice and in part due to her frank disposition and lack of artifice, which the men of her day find more than a tad discomforting. She acquired her own expertise in art while working at her father's side, and she truly loves the business she ran with him. She also feels a responsibility to preserve this inheritance for her brother, who was lost at sea when a ship went down two years ago, but whom she refuses to accept is dead. She is determined to find a way to continue the auction house, and concocts a strategy of deceptions with her friend Cassandra's help in order to do so.
Executing her plans would be easier if Emma did not also have to manage the interference of the Earl of Southwaite, who, she learns to her consternation, became a silent partner in the auction house prior to her father's death. He shows up to meddle at the least convenient moments. Southwaite keeps insisting that the auction house must be sold, and has little faith in what Emma is planning. Emma must juggle him, and the spiking attraction between them, with one hand while forging forward toward her goals with the other hand (which she manages to keep out of his view.)
Darius Alfreton, the Earl of Southwaite, is a man comfortable with command, the king of his own domain who assumes he knows best about most things. Since he is very smart he often does, but that does not entirely excuse his arrogance. That arrogance is easier to accept because his manner on the whole is urbane, very cool, and, due to expressive eyes, he rarely needs to communicate his displeasure in words. He is famous for his discretion, but no saint due to the normal sins committed by men of his world.
He is not very enlightened about women. He finds some of them incomprehensible and others merely tedious, and after the first blush of passion he is usually disappointed in his affairs. He is a man ripe for the picking by some clever girl who presents herself as sweet, innocent, obedient, and helpless, as befits his stereotypical expectations regarding proper womanhood. He is thus totally unprepared for Emma's plain speaking and stubbornness, let alone her tactical moves that outflank him. Sparks fly in more ways than one whenever they meet.
Darius invested in Fairbourne's much as wealthy men today purchase sports teams. He certainly never expected it to cause him so much trouble, and have him engaging in rows with Maurice Fairbourne's daughter. If he did not find Maurice's death suspicious, and Emma fascinating as well as irritating, he would leave the entire matter alone. He dare not, however, when the evidence keeps mounting that Fairbourne's has been involved in criminal activity, and that scandal could soon erupt around the auction house, tainting everyone associated with it, including him.
Colorful secondary characters fill this world, many of whom will be prominent in later books. There are Darius's friends Ambury and Kendale, who have helped him set up a system of watchers on the eastern coast, to provide privately what the navy, stretched to its limits in the war with France, can no longer provide officially— a way to monitor what is a very porous border, one that is vulnerable to the infiltration of spies and the exportation of information.
Readers will also meet Emma's dear friend Cassandra Vernham, the sister of the Earl of Barrowmore, who enjoys more independence and endures more gossip than is proper for an unmarried woman, even one who is no longer an ingénue. Emma will rely heavily on Fairbourne's auctioneer, Obediah Riggles, whose unimpressive appearance and manner lure people into bidding much higher than they had intended. The mysterious French émigré Marielle Lyon will play a pivotal role as the intrigue deepens, and two of Darius's old friends will cast their shadows: Lakewood, who died in a duel, and the Duke of Penthurst, who pulled the trigger that killed him.
Since my first book was published in 2000, I have often been asked what makes a Madeline Hunter romance a Madeline Hunter romance? I am too close to my own writing to answer that, but I think the following review of The Surrender of Miss Fairbourne may have nailed it:
"Hunter's unique talents for blending sensuality and suspense along with the color and atmosphere of the era are what make her a fan favorite. Add to this intelligent, three-dimensional characters and strong plotlines and you have another fantastic read." RT Book Reviews 4 1/2 stars Top Pick
***If you would like to purchase a personally signed and dedicated copy of this book, The Mystery Lovers Bookshop, which has online purchasing, will take orders until February 24. I will autograph the copies and they will be mailed the week of release. Be sure to indicate in the special instructions section during check out to whom you want the book dedicated. Shipping is $3 media mail to the lower 48 states, but if you order another book and the total is over $10 shipping is free. Inquire for the costs of other shipping: international, priority, etc. This link takes you directly to their order page for The Surrender of Miss Fairbourne:


Madeline