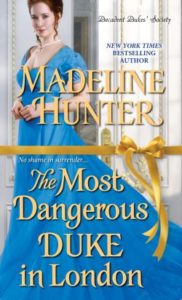 Just a reminder that if you pre-order The Most Dangerous Duke in London by May 29, you will receive bonus content on May 30. You can also enter an exclusive giveaway. Just go HERE and fill out the form.

Booklist has weighed in with its review of The Most Dangerous Duke in London and I am so delighted!
"The first in Hunter's seductive new Decadent Dukes Society series is an elegantly written story with richly nuanced characters and a surfeit of intoxicating sensuality that will have fans of Regency-set romances sighing happily with satisfaction."– Booklist
Be sure to read the excerpt, and if you pre-order don't forget to register for the special exclusive content and giveaway at http://sites.kensingtonbooks.com/hunter/

My Parlor Talk members were invited to try for a chance to become part of the Review Crew for my upcoming release, The Most Dangerous Duke In London. Only 25 were selected by random drawing. They've already been notified.
Thank you all for your interest and thank you in advance to the ones selected for your honest review. All reviews help.
The Review Crew:
Karen G.
Lesa B.
Kathy H.
Rachelle T.
Anne M.
Karla C.
Jean MP
Marie S.
Diana D.
Andrea GdS
Ros S.
Carrie S.
Jennifer A.
Cassie H.
Leigh-Ayn A.
Robin C.
Adrienne B.
Teri D.
Sharla L.
Janet N.
Wanda G.
Dottie L.
Megan E.
Lisa R.
Linda O.